Dr. Pierre Allaire, vice president Baptist Foundation, Amelia Bifano of Rockaway Gardens, Lisa Dalziel – committee, Sherill Herzfeld -committee chair, Julie Sturm – committee, Taylor Beck of Terk Oncology, Judy Croan – committee, and Jason Simpson – Baptist Beaches Development.
The RITA Foundation's Mixed Tennis event completed their check presentations with three grants to the Baptist Health System. The RITA/Mixed RITA Cancer Endowment was established with $ 8,000.00. This endowment will be fully funded over the next two years to $ 30,000.00 and will then be matched by the Baptist Foundation.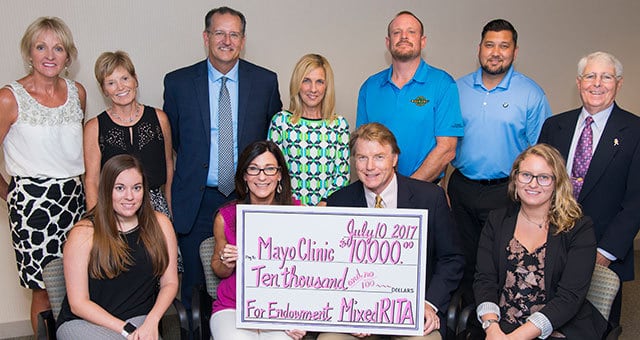 The RITA Foundation's new mixed doubles event, Mixed RITA, was held on June 3 and 4, 2017 at Sawgrass Country Club. 48 teams competed over the two days. Proceeds of $ 20,000 were raised with $ 10,000.00 going into The RITA Foundation's Breast Cancer Endowment at Mayo Clinic and $ 10,000.00 will go to Baptist Medical Center Beaches to create a new Prostate Cancer Endowment.